Mud-Skipper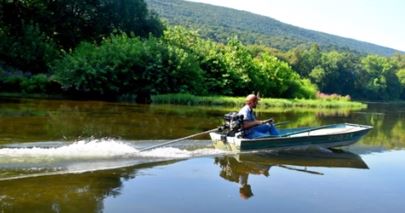 Let us help you take your boat to the next level with Mud-Skipper.
Longtails have been the low cost alternative for thousands of boaters in the Far East for years, where they are used by commercial fisherman and hunters and are well known for their ability to navigate in shallow and muddy waters.
More recently, American duck hunters and fishermen have discovered that they are ideal for powering boats across shallow areas, and they leave a low overall profile.
Mud-skippers come fully assembled or in a kit for you to use with your own motor. Cruise up and down the river and have fun in the sun with a long tail on your boat. They can hop over rocks in as little as 6 inches of water, fit a variety of motors and rarely get caught up in vegetation. It's like a 4x4 for your boat.
We are Pennsylvania's only Mud-Skipper Dealer!
Stop by to see what it's all about and check out our video to see the product in action.